Lend me your Face! (Facing the Choir)
Participatory deepfake artificial intelligence art installation
By Tamiko Thiel and /p, 2020
With Christoph Clement, technical collaborator*
Lend me your Face! (Facing the Choir) is a participatory artificial intelligence installation in which participating visitors' faces are mapped to videos of prominent public figures and displayed in 6 large projections surrounding the public.
The visitor is confronted with a very personal encounter of how the most intimate and yet public part of the self, the face and the emotions it expresses, can easily be manipulated and placed in contexts out of their control.
* Lend me your Face! (Facing the Choir) uses an open source DeepFake neural network framework developed by A. Siarohin et al,, with "deep-animator," a wrapper created by Dimitris Poulopoulos and extended by Christoph Clement.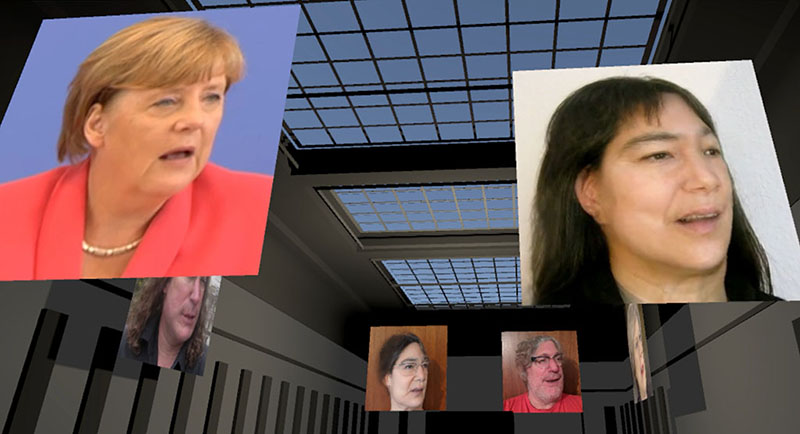 Lend me your Face! (Facing the Choir) participatory deepfake artificial intelligence Installation
Visualization for the Goetzendaemmerung exhibit of the Kuenstlerverbund im Haus der Kunst
Lend me your Face! (Facing the Choir) is premiering as part of:
"Gotzendammerung (Twilight of the Idols)"
Art and AI as Aesthetic Discourse in the Age of Trans- and Posthumanism
24 September - 01 October, 2020
Haus der Kunst, Munich, South Gallery
Kuenstlerverbund im Haus der Kunst (Artists Association in Haus der Kunst Munich)
An exhibition by Berkan Karpat / Dr. Cornelia Osswald-Hoffmann / Rainer Ludwig
In collaboration with Hakan Gunduz, DECOL (KI Tools)
Artist Installations:
MEMO AKTEN, SOUGWEN CHUNG, HAKAN GUNDUZ, PATRICK TRESSET, OBVIOUS
Artist Live Act (collaboration with AI)
ELKE DREIER, MANUEL EITNER, JUDITH GOLDSCHMID, ZITA HABARTA, NICO KIESE, GUNTHER NOSCH/FLAVIO CURY, TAMIKO THIEL and /p, FELIX WEINOLD
Analog artwork on the theme GOTZENDAMMERUN
Elke Dreier, Federico Delfrati, Judith Egger, Manuel Eitner, Amit Goffer, Judith Goldschmid, Gerhard Hahn, Zita Habarta, Nico Kiese / Bernhard Slawik, Vera Lossau, Gunter Nosch in collaboration with Mounsif Chetitah, Susanne Pittroff, Susanne Thiemann, Tamiko Thiel, Felix Weinold