Revolution and Return
Interactive augmented reality installation
Tamiko Thiel and /p, 2023
Premiering 12 May 2023 - 12 May 2024:
DEMO- AR exhibit, wava.ar and Netzwerk Paulkirche
See
press release
for details.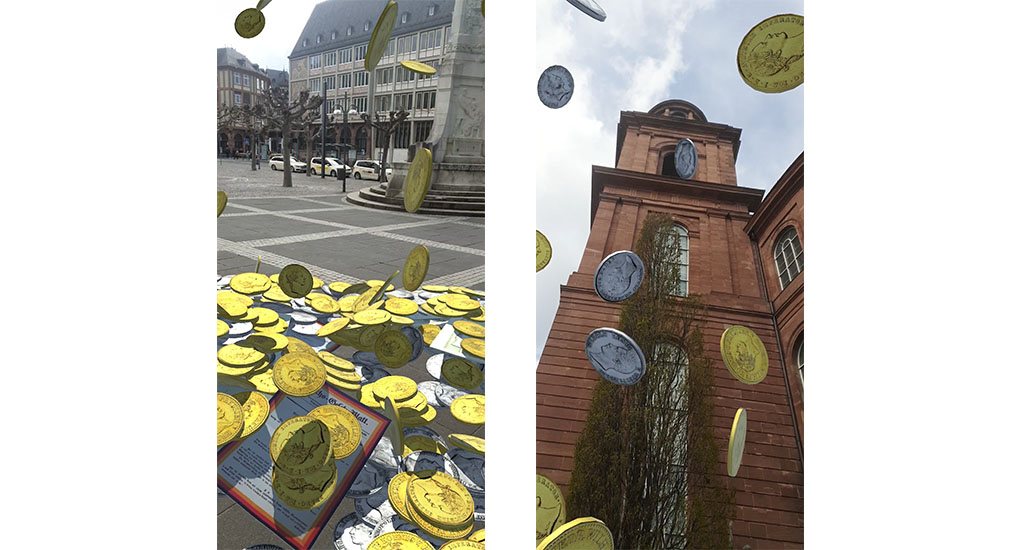 Silver coins of the German states, carrying the profiles of their respective German monarchs and symbols of their personal power, fall from the sky. With a touch you can transform them into the founding constitutional documents of the first unified German nation-state, which forced them to give up control of their realms in 1848.
But what happens when gold ducats of the powerful Prussian King and Austrian Emperor begin to rain down from above?
The Revolution of 1848 in the German Confederation:
The Revolution of 1848 began in the Grand Duchy of Baden and spread to the other states of the federation within a few weeks. From Berlin to Vienna, the revolution forced autocratic monarchs to appoint liberal governments (the "March Cabinets") in the individual states, and hold elections to a constituent National Assembly, the first one in German history.
The National Assembly met on May 18, 1848, in the Paulskirche in the then free city of Frankfurt am Main. It established a central government and saw itself as the parliament of a revolutionary, nascent democratic German Empire.
After initial democratic reforms in March 1848 (abolition of press censorship, liberation of the peasants), the revolutionary movement came increasingly under attack from reactionary forces. By July 1849, predominantly Prussian and Austrian troops had used military force to crush the first attempt to create a democratically constituted, unified German nation-state.