Sponge Space Trash Takeover
Online virtual reality art installation
By Tamiko Thiel, 2020
In "Sponge Space," courtesy of Cyan Planet and the xR HUB Bavaria.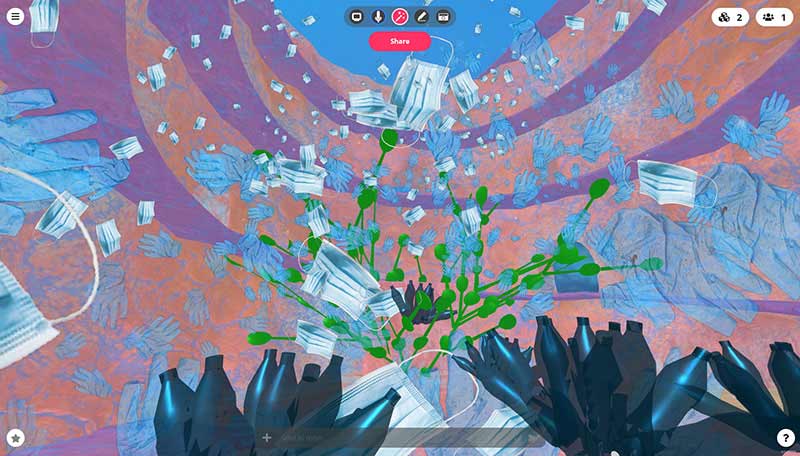 "Sponge Space," was developed by Cyan Planet for the xR HUB Bavaria. It is a multi-purpose virtual space that can be used for conferences and networking, work sessions or group meetings. For the Medientage München 2020, they invited me to stage an intervention: the "Sponge Space Trash Takeover."
Outside of the sponge, visitors see Cyan Planet's peaceful 360 video of fish feeding at a reef, and the massive pink sponge that is the conference space. Inside, however, visitors are confronted with the growing plastic pollution of our oceans that here fills up the sponge. Water bottles, plastic cutlery etc. have always been a prominent part of ocean plastic waste, but now the coronavirus pandemic has seen the sudden appearance of disposable masks and gloves polluting the waters as well.
Sponges actually do filter microplastics out of sea water, and a study says they seem to be resilient to damage from the waste. But organisms all the way up the food chain to human beings are injesting more and more plastics, that have now permeated all the waters of the world from the sea bottom of the deepest trenches to the uninhabited reaches of the North and South Poles.