ARpothecary's Garden
Interactive Augmented Reality Installation
Tamiko Thiel, 2022 (with vocals by Franziska Ott)
Commissioned by and in the Art Collection of Roche Basel Commissioned by curator
Sabine Himmelsbach
, director of the
HEK (House of Electronic Arts)
, for the
ARTour Basel
exhibit "Celebrate Life" commemorating Roche's 125th anniversary.
Located in Solitude Park, between the
Roche Headquarters
and the
Museum Tinguely
in Basel, Switzerland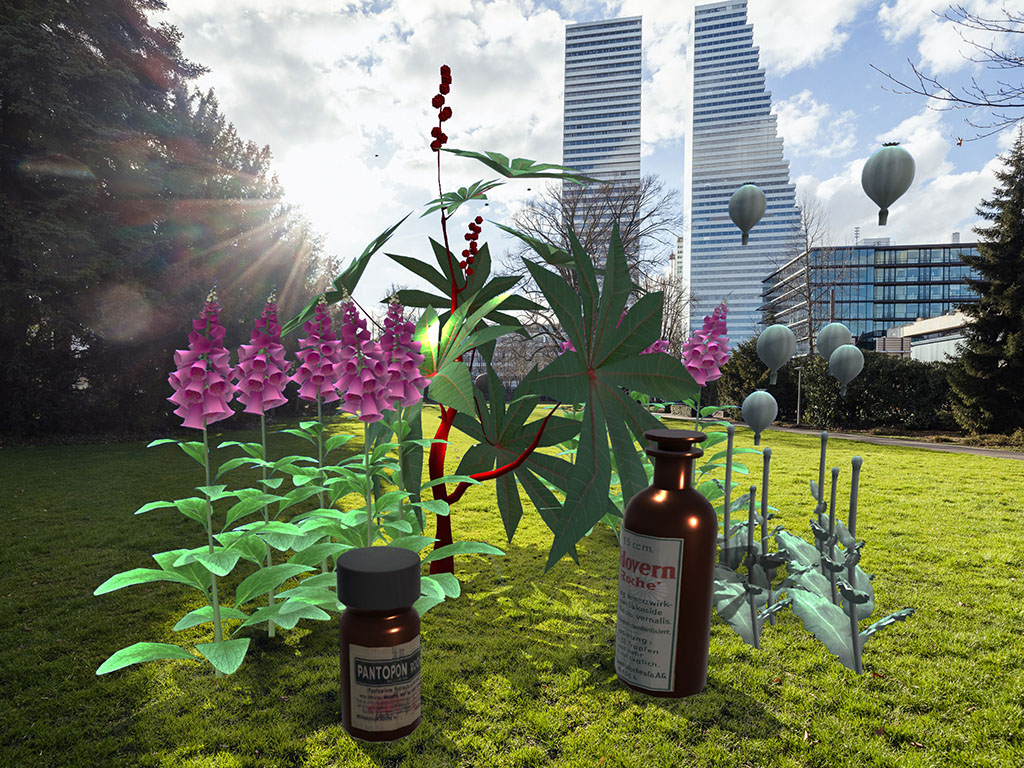 In her intervention in Solitude Park, Tamiko Thiel addresses the production of plant-based medicines. The artist selected several plants that are known for their healing power and have long been used in medicines, including the opium poppy, the red foxglove, the Adonis rose, and the castor or miracle tree. It thus makes a reference both to Roche's field of activity and to the 1936 mural "Medicinal Plants" by Niklaus Stoecklin, which is located in Roche Building 21. If you click on the pharmacy vials in the app, animated plants are released. The type of animation refers directly to the specific potency of the plants. Thus, a field of flowers slowly emerges, singing in cheerful, upbeat chorus with human voices, celebrating healing power.
Many thanks to our sponsors for their support: