With Apple's "Think different" ad campaign providing the raw materials, a number of us ex-Thinking Machines employees put on our CM-1 T-shirts and gathered in San Francisco to celebrate Richard Feynman and the CM-1.

What Apple doesn't know is that Danny Hillis and I worked up the T-shirt design to describe the architecture of the CM-1. The cube-of-cubes was how I visualized Feynman's description of the 12-D boolean hypercube, with the fuzzy balls representing the software links that could connect independent of the hypercube network.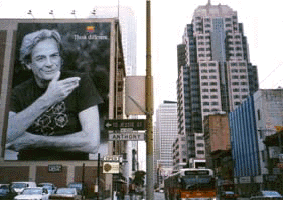 the site
The T-shirt ultimately became the inspiration for the actual physical form of the machine itself. You can read that story in a short version or the longer version that I published in Design Issues, a design theory journal.

As an ironic footnote, a friend who worked for Steve Jobs at NeXT told me the CM-1 was the inspiration for the form of his NeXT machine.

Press: Chris Nolan documented our little escapade in her business gossip column "Talk is Cheap" in the San Jose Mercury News.